What Do Your Favorite Activities Say About You?
What do your favorite activities say about you? Are you tame, knitting your nights away, or are you more of a partier? Pick your favorite activity in these ten questions to find out!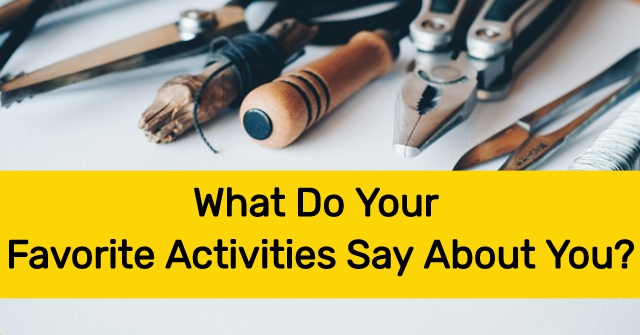 START THE QUIZ!
Question 1/10
pixabay.com
It's dinner time! You want to...
Make a meal from scratch at home
Question 2/10
pixabay.com
The weather outside is beautiful! What will you spend your time doing?
I'll go on a romantic picnic
Question 3/10
pixabay.com
What are your plans for an average weekend night?
I stay in and work on my hobbies
Question 4/10
pixabay.com
Which of these classes would you most want to take?
Question 5/10
pixabay.com
Do you like to do your activies alone or with others?
Question 6/10
pixabay.com
Which of these puzzles are your favorite?
Question 7/10
pixabay.com
Would you rather play board games, card games, or video games?
Question 8/10
pixabay.com
Which of these winter activies would you rather do?
Drinking cocoa and baking treats
Question 9/10
pixabay.com
Where would you rather go on your day off?
Question 10/10
pixabay.com
Which activity item would you be most likely to buy?
Most of your favorite hobbies have one major thing in common, and that is that they are creative! This must mean that you are a creative person! You are always looking to make new things. Whether it is art, music, or writing, your imagination is always thinking of something fun to do next!
You Are Creative
pixabay.com
Your favorite activities make it easy to see that you are atheletic. You love to spend your time outdoors, in the gym, and anywhere else where there is enough room to run around and play games. You are a true althete!
You Are Athletic
pixabay.com
You love to get out and to spend time with your friends. Whether you are at a club, at a party, or just having a small get-together with friends, you are always a social butterfly. You make the best of your time with friends, and a socialite like you wouldn't have it any other way.
You Are A Partier
pixabay.com
You have a technical mind. You love to fix broken things and to solve problems (even if you have to look for the problem to solve in the fisrt place). You love a challenge, and anything else that will make you think. All of these things prove that you have a technical mind.
You Have A Technical Mind
pixabay.com
You could hardly care less as to what you are doing, so long as you are doing it with the love of your life. You always want to be with your partner. You are truely in love, and your favorite activies only help to show it.
You Are A Romantic
pixabay.com